When it comes to a perfect beach day, one item always takes the spotlight – sunscreen.
As the warm sun kisses our skin, we all want to bask in its glory, but without proper protection, our fun in the sun can quickly become a sunburnt nightmare. Sunscreen not only guards us against harmful UV rays but also ensures that we can soak up the beach vibes worry-free.
So, before you pack your swimsuit and towel, remember to add that all-important tube of sunscreen to your beach bag – your skin will thank you!
A beach day is perfect for relaxing, having fun, and soaking up the sun. Whether heading to a tropical paradise or a local beach, several must-haves will enhance your experience and ensure a memorable day by the water.
From sun protection to beach games, we've covered you with the essential items for a perfect beach day. So grab your beach bag, and let's dive in!
Sunscreen
The most important item you need for a beach day is undoubtedly sunscreen. Protecting your skin from the harmful effects of the sun is crucial to avoid painful sunburns and long-term damage. Look for a broad-spectrum sunscreen with a high SPF (sun protection factor).
Apply it generously and frequently throughout the day, focusing on areas of your body exposed to the sun. Don't forget to cover those easy-to-miss spots like your ears, the tops of your feet, and the back of your neck.
Remember, sunburns ruin the day and can have severe consequences for your health, so be sure to make sunscreen your number one priority!
Beach Umbrella or Shade
While soaking up the sun can be enjoyable, it's essential to have some shade options available on your beach day. Investing in a beach umbrella or setting up under a natural shade, such as trees or cliffs, will give you a break from the scorching heat.
Not only does this provide relief from direct sunlight, but it also helps reduce the risk of heatstroke and dehydration. Plus, having a shady spot to retreat to allows you to enjoy your beach day for extended periods without worrying about getting too hot or uncomfortable.
Beach Towels
Beach towels are essential for any beach day. They provide a comfortable place to lie down and come in handy for drying off after a refreshing dip in the ocean. Opt for towels made from quick-drying and sand-resistant materials so you don't take half the beach home with you.
Consider bringing multiple towels, especially if you're going with a group, as it's always nice to have a clean and dry towel to relax on throughout the day.
Swimsuits
What's a beach day without a swimsuit? Be sure to pack your favorite swimsuits for your beach excursion. Whether you prefer a classic one-piece or a trendy bikini, choose one that makes you feel confident and comfortable. Don't forget to consider the activities you have planned for the day. If you plan to play beach volleyball or dip in the waves, opt for a swimsuit that provides adequate support and stays in place. Remember, the key to enjoying a beach day is feeling great in your swimwear, so choose suits that make you shine!
Flip Flops or Sandals
Walking barefoot on the sand is one of the simple pleasures of a beach day, but protecting your feet from hot sand, sharp shells, and rocks is also essential. Flip flops or sandals are a must-have item to slip on as you navigate the beach. Look for waterproof and durable options that can withstand the sand and water. Additionally, choose footwear that is easy to clean, as sandy flip-flops can quickly become uncomfortable. Having a pair of reliable flip-flops or sandals will keep your beach day on the right foot!
Sunglasses
A stylish pair of sunglasses is essential for a beach day. They protect your eyes from the sun's harmful UV rays, prevent squinting, and reduce the risk of eye damage. Look for sunglasses with UV protection and polarized lenses to block out glare from the water.
Choosing a durable pair that can handle the beach environment is also a good idea. Invest in a sunglass strap or holder to keep them secure and prevent losing them in the water or sand. Whether you prefer classic aviators or trendy oversized frames, sunglasses will add a touch of style and protect your eyes during your beach day adventure.
Beach Chairs or Beach Blankets
Having a comfortable seating option is crucial for a relaxing beach day. Consider bringing beach chairs or a beach blanket to establish your base camp for the day. Beach chairs provide sturdy support and allow you to sit upright and enjoy the view comfortably. Look for lightweight and foldable chairs that are easy to transport.
If you prefer a softer option, a beach blanket is versatile. Spread it on the sand, lie down, and soak up the sun. You can also use it as a gathering point for picnics or beach games. Whichever option you choose, having a designated spot to relax and unwind will make your beach day even more enjoyable.
Waterproof Bag
A waterproof bag is a practical and essential item on a beach day. It keeps your belongings dry and protected from sand and water. Opt for a waterproof bag made from durable materials, such as PVC or nylon, to safely store your valuables, including your phone, wallet, and keys. Look for a bag with multiple compartments or pockets to keep your items organized and easily accessible. With a waterproof bag, you can enjoy water activities without worrying about ruining your belongings or scrambling to find them buried in the sand.
Cooler with Refreshments
Staying hydrated and nourished is crucial for a fun and energetic beach day. Packing a cooler filled with refreshing drinks and snacks is a must-have item. Fill your cooler with plenty of water, as well as electrolyte-rich beverages like sports drinks to replenish your body.
Consider packing some fruits, sandwiches, and healthy snacks to keep your energy levels up. Don't forget to include frozen treats like ice pops or ice cream to indulge in a refreshing and sweet treat under the sun. Remember, proper hydration and nutrition are essential to keep you feeling good and enjoying your beach day.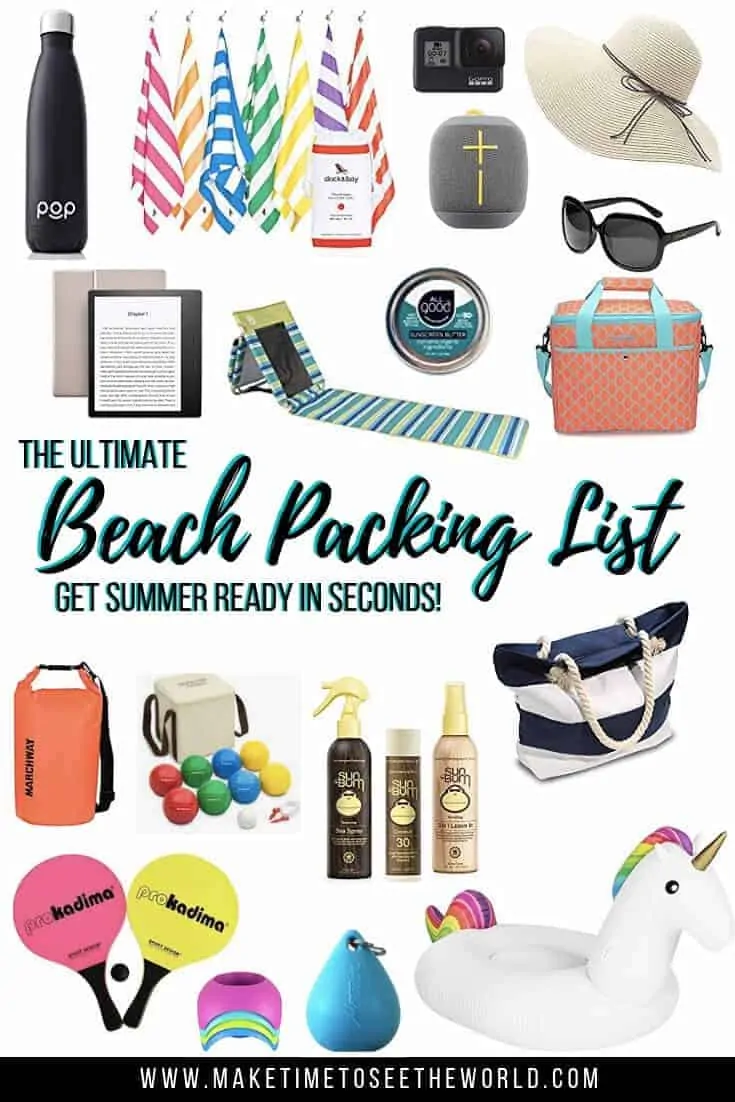 Entertainment and Activities
Last but certainly not least, don't forget to pack entertainment and beach activities to keep everyone entertained throughout the day. From beach balls to frisbees, there are plenty of games that can be enjoyed on the sand.
You can also bring snorkeling gear to explore the underwater wonders or a paddleboard for a more adventurous experience. If you prefer a more relaxed day, consider bringing a book or a portable speaker to enjoy music while sunbathing. Entertainment and activities will keep everyone engaged and create lasting memories of your beach day.
In conclusion, a successful beach day requires carefully planning and packing essential items. Sunscreen is essential to protect your skin, and shade options include an umbrella and beach towels for drying off. Swimsuits and comfortable footwear like flip-flops or sandals are a must. Don't forget to shade your eyes with sunglasses and bring beach chairs or a blanket for comfortable seating.
A waterproof bag will keep your belongings safe, and a refreshment cooler will keep everyone hydrated and satisfied. Finally, entertainment and beach activities will make your day fun and memorable.
With these must-haves in your beach bag, you're all set for a fantastic beach day full of relaxation, enjoyment, and endless summer vibes.